January 24th, 2018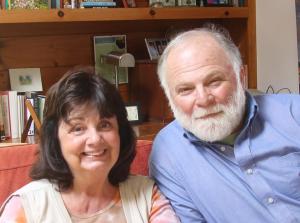 I am going to begin a blog where I explain my feeling behind why or how II painted what I am putting up on my blog. I already have a good start because I have about 400 paintings listed on this site plus more in the pipeline ready to come. This first day, I decided to put up a photo of me and my wife of fifty years this June . I feel it is important to know her because she is my motivation,my critic, my second set of eyes. If what I am working on doesn't pass muster with her, it doesn't see the light of day.

I didn't begin painting until I was well into my fifties. My wife and I had traveled to Europe a great many times as I had taken high school students on humanities tours. I was and, of course, still am an appreciator of beauty, and I wished to record it as I perceive it.

Photography had always been my way to do this. I can't remember not liking taking photos, and I had never considered myself someone who could draw them or paint them. The more "photo real" I worked at a drawing, the more childlike the work appeared. It would take well into my adult life before I had heard that Picasso and Matisse claimed to have spent a lifetime trying to allow the child in themselves to take over and just paint what they saw and how they felt.

As an adult High School and college instructor in English and the Humanities, I had familiarized myself with many artists whose worked I loved. I had learned terms and techniques, at least on paper. My wife, Donna, my Muse in all things, reminded me that directing theater was much like painting (more on that as this blog continues). A canvas is just a small stage. I had directed for twenty-five years and had a knack for getting it right, or I was blessed to have talented people, mostly kids, working around me. I found that listening to people and making use of other people's work and experience as models is to this day a valuable lesson. I suppose what this means is that any artist in any field has to be willing to take that "risk" of failure. If you are not willing to do that, you will never become involved in the process. You also have to be able to take the first step and not panic over a blank canvas or piece of paper. I also write for publication and have been paid for my words. But I have been rejected many more times than I have been accepted for publication. I have also acted. I have auditioned and been rejected, but hung in and have been called to play a part. This is all part of what is called paying ones dues.

So, here I am starting a blog, recollecting how I got where I am, in three galleries, presently from Virginia to Cape Cod, recently invited to be a guest artiost in a new upscale gallery on Cape Cod, a member of an interior design business, have my own Etsy store, and I am on Fine Art America. I am self taught. I make mistakes, but I paint every day or almost every day for the last fifteen years. I will start filling in the blanks about my work and how each is a part of me. I do believe that is what every artist does: represent and recreated his or herself everytime they pick up the brush. Welcome to my Blog, It is Myself I Paint.